Behold, here is my expression about our competition.
Including mentions of some other key features :
- A simple user profile by making it simpler and more relevant than About.me
- A hiring feature that aimes to democratize the Human Resource culture of the world such that a company may one day do, without a HR manager.
Do read the description of the video to know more about the words tasks, personality, feeds, hiring, and education mentioned in the above slide image.
Team build — The way the team is represented by/in a company should get democratized now

While building Preseed I encountered a problem of listing in and listing out of my team members. More so, as we are an organisation that runs a very liberal culture of hiring and firing. Here people come at will and leave at will and we don't batt an eyelid. We sort of really enjoy going with the flow of both entry and exit. To make this transition of an employee entry into my company and exit from my company smooth and botheration free, I want to give the control of all an employees representation to the employee himself.

In essence what I am saying is that the team admin only need to approve to add an employee into the team, where the employee himself writes his own job description, adds his own social icons, uploads his id docs, gets access to all related HR documents, understand his roles, performance indicators, compensations, rewards, get connected to the team and start getting introduced to whoever he needs to work with within the team. This will be a place for all employee matters of a company. This feature is a big feature of our product.

So this will extend in the future to be a dashboard for the HR department(which with the help of this tool will only become thinner) and the employees of a company, for large companies.

But for now, we will just do it's MVP and look to build some traction for it, as indicated on it's current web page.

Social Feeds and personality in greater detail for this is what will translate our chat app into a social network of action: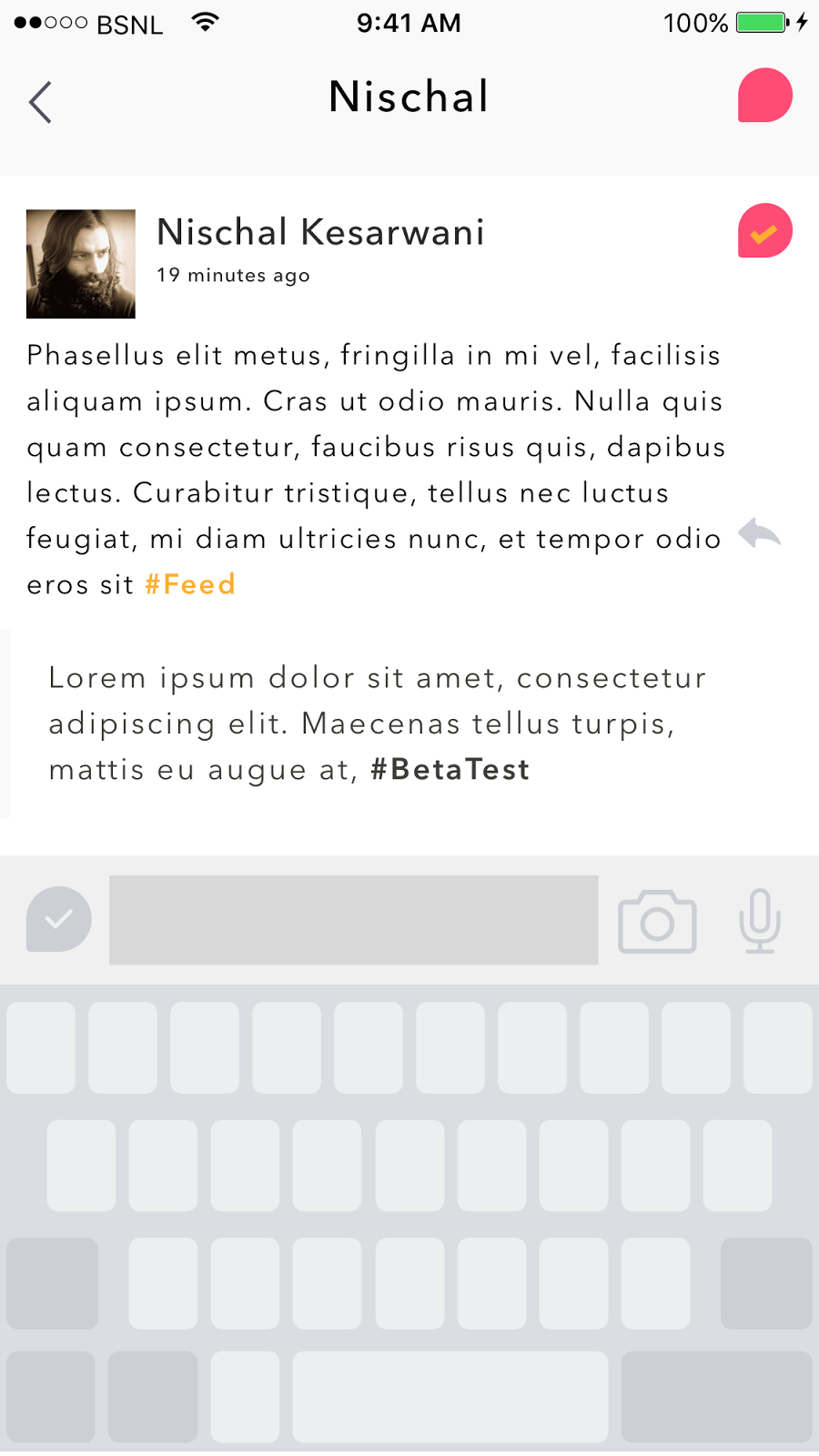 The image of our first wireframe screen. The text line with #betatest is a feed. When a user X opens the chat screen to chat with the user Y just above the text box is the feed of user Y and vice versa. Left swiping on the feed permits its greater exploration while clicking on it enables to see it in greater details. At the end of these feeds, is a button called 'more'. This has additional information that AI picks from the web, on most common key words that users are talking about from all over the web, just in case they wanted to explore those topics more. E.g. if these two users are talking about customer metrics software, then they will be able to explore s software like intercom, google analytics, intercom, branch.io pushed automatically to them by our algo, which will improve over time.
Personality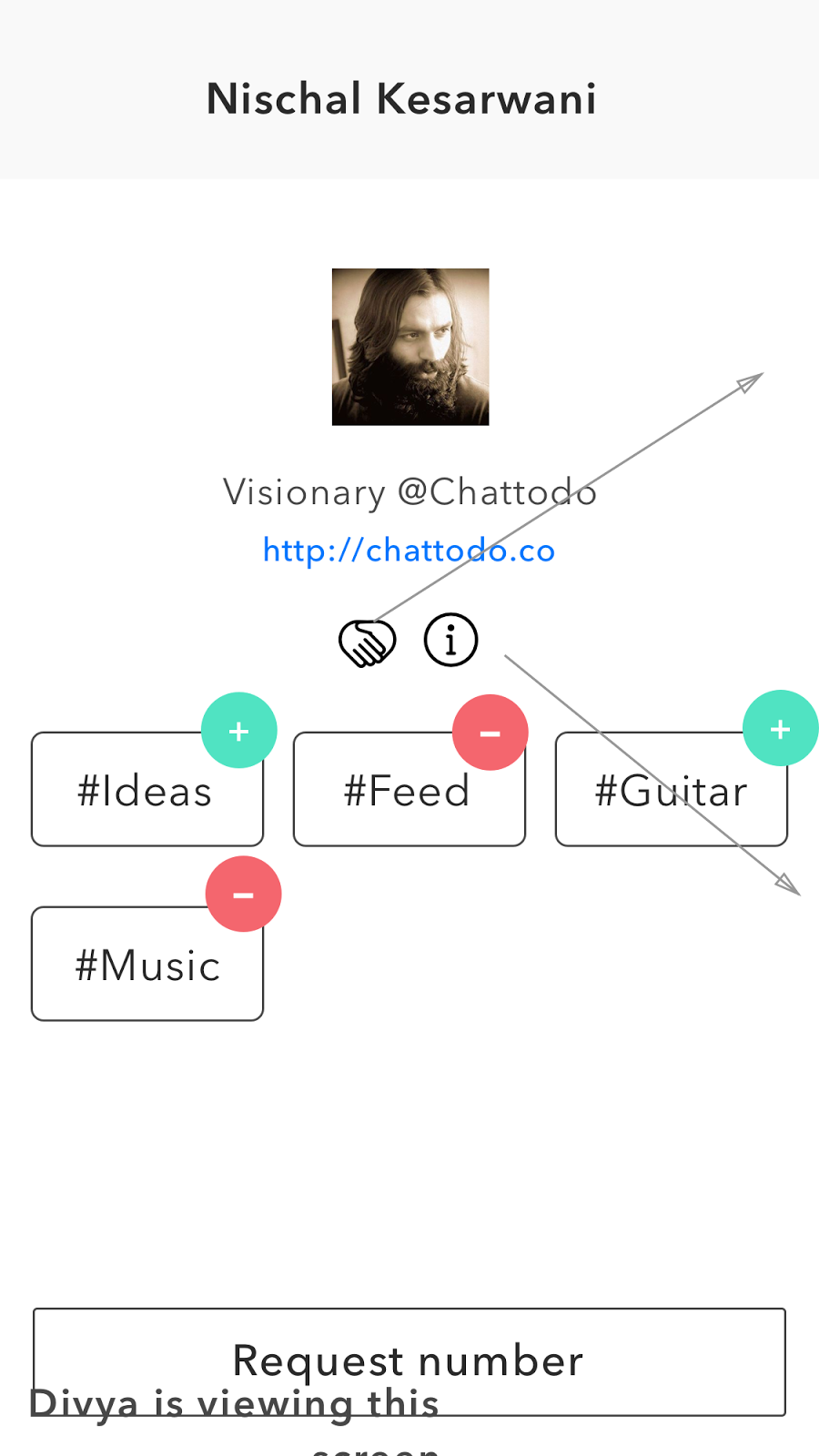 Notice the (i) — Project: Web Id This time let your web id be a pin code.

I hate the way people have to exchange their contact co ordinates day to day with different people.

If I exchange a number, an email or a twitter handle with a person, or a unique Pin Code he should get an access to all my public identity systems; but that doesn't happen yet. Instead there are longer and uglier ways of finding people on our phone contact books and even more complicated ways of finding them on social web. Worst is that if I have to save someone's number or twitter handle or email, I have to add their name first and then type out their related URL. Then one day I may need their facebook, quora or soundcloud id, then, I will have to reach them again to get it. Worse, even though at my end I have recorded their details, meaning I have put in that effort into recording details on my contact app for this person, yet this person will have to repeat the process of writing my name in his contact book, my phone number, my email etc. IT IS ALL TOO AGE OLD. Add to contactcards through a pin, number, email or twitter, or any other product listed there.

-Cards with carousal exerience.
-The experience of the whole product is this card. There is nothing more than 1 card that will meet the eye of the user at any given time.
We mean it, it is the simplest and more scalable solution to what bump and evernote hello attempted to do.
-Embedded into the default contact apps of ones phones.

Goal

To one day have this product be a 'protocol' for identity of millions of people on this new age social web.

We will together hustle enough to make this a reality.

A passing thought

The way I envision this product it could be a great chat app of sorts too. Anyway let this not distract the key and only purpose of this product i.e. to be a contact app for the new age, the mobile web age.


HIRING AND MONETISATION PER TASK

Our wireframe images are being skimmed in this video. At 0:05 you will see the hiring screen for startups on Chattodo. To save the world from too much talks, to then disrupt the education and hence, employment system too. Our vision for hiring and payments to collaborators is a thing we have kept confidential for the person who most keenly studies us. Our monetisation will also come from right there.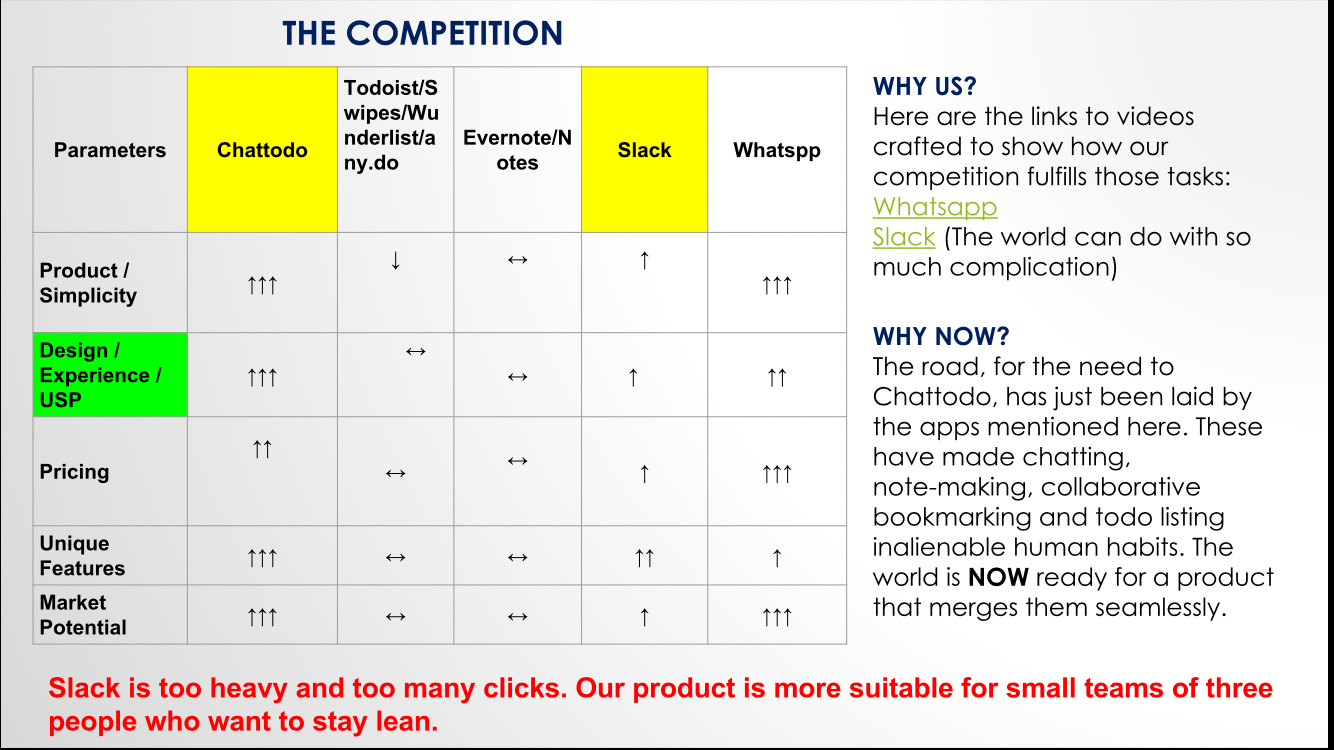 Slack is too many clicks. Slack is to productivity chatting, what MySpace was to social networking. Not the absolute solution. Clearly, I am suggesting we will be to productivity chatting, what Facebook is to social networking . Remember, the reason that killed all the competition for Mark Zuckerberg in social networking was Mark himself. Our app is built more like whatsapp, than Slack.
Question: What differentiates our product in the market? What is our competitive advantage? Or will be moving forward?

Answer: The clear strength of this product is in it's simplicity and novelty, hard to find now a days, in productivity tools. Most of them are rip offs of each other just designed differently. We are fundamentally different and that makes it very worthy of attention for acquisition from extra ordinary companies. Most of the competitive todo listing apps work on input basis, as in you have to physically type the todo up then submit it to save a task. It breaks the flow of communication. In our case, the flow of discussion is not broken and yet one is able to record that task at that very instance.


Read the description of the video too.
Chat apps including Slack, assumes that communication between 2 participants or more can keep moving forward as is, unless ofcourse the user wants to drown himself or herself in the sea of features and integrations on Slack; and for those words that look like clear tasks, the participants will either remember those, or participants will make notes of those where ever they want, by retyping those. Worse still, they assume, it is okay to make them scroll up to find what all is their task. Is that the result of the empathy they have for teams communicating? Unless and until the experience is not exactly like how I am suggesting through the image below, Slack is not aiding its simplest users best. What about Whatsapp? Let's not even start there.


Slack is the right latter stage investor for Todoed.
I once even thought of writing to Mr. Butterfield,
I am building a product that can eat into your market share over the course of the next 5 years. I assure you. To what portion? The same portion as of the market share proportionate to that portion of overall communication on Slack, which is one on one communication. However, the good news is, we are making this product hoping that you will keep a big piece of it. (We think if we ever were to be acquired, the acquirer would be you, Slack would acquire us. Unless we beat you at what you are doing. Although that is not the aim, if anything, the aim is to aid you :).
I don't know what is the size of it. I just know I am one such user from that exact market portion, that portion, in which chat exchange is attributed to one on one communication. I communicate a lot like that. I assume there must be a lot of users of Slack communicating like that. You must know the numbers. Since, you are Slack. The product used by everyone from my target market. However, my target market is not only limited to the users of Slack. Because users of Slack are the mature productive audience. My product will help onboard them, when they are not so mature.
That is exactly why I write to you. I have a crisp vision. I will take 3 years to execute it without you. I will take less than 1 year to execute it with you as the sole investor(because I don't want anyone other than you). I have laid a part of that vision already. I can demo it to you. It's right here
— www.chattodo.co
Chattodo is to Slack, what Twitter is to Facebook. Fundamentally different. Touch a message, and that message could be moved to a todo list for which currently other apps are integrated with Slack, whether with Zapier, or directly.
Btw, here is why this chat product that I am proposing is necessary -
1. Slack is a winner. Period. It is a winner of the world of group communication for productive people. Very meaningful for companies. Currently even startups of 3 humans are using Slack. For lack of better options of products that just facilitate their communication among these 3. No need for having so many buttons and options when there are just 3 people to talk to. To such men and women, our product will be more meaningful, not only because it does this least very crisply, it also makes your conversations more actionable, because it does the least, it has room for doing something new to the chat experience of those who in swift moments of thoughts want to communicate one on one, while being actionable and accountable. Our chat app, can induce these 3 to be more accountable for tasks that were discussed in such chats.
2. Slack assumes that we, productive people with a team, just want to communicate with, each other, in groups — There are 3 problems here A). Each other — No, we communicate with our self too. Our product, is a todo listing / note making tool. This is how a conversation with self happens. B). In groups — No, sometimes all we want is to communicate with one person out of the 10 I communicate with for work. I don't need no group/channel chat interfacing in such moments. C). Before I communicate with others, there are times when I communicate with my self — and then I, address that thought which I just typed on the text edit box of Todoed to the person I want to communicate to. Pay attention to this point please. It is deep. To do this currently I have to open the chat box for that person, and then re produce that thought, to type to his chat box. With the Chat product I am proposing there is tremendous empathy for this effort of opening the chat box for such a thought. In our chat app, you put your thought first, and address it right there to the concerned person. You don't address the person first before putting in the thought. If you have to open the chat screen of that person or any chat screen, then you are adressing the person first, even before actually baking the thought you have. No opening of his chat box hence, just one text edit box is enough. So these fellows can further such delegated tasks as a chats as well, in the chat screen, and this message that you sent, will show up as a todo item right there too as well as in his chat window with you. And wonderfully, exactly in the same space where you sent a message to your co worker, which btw, magically shows up in his todo list, you could send a message to yourself, your thought, to yourself, which also magically shows up in your todo list.
Did I say todo list?
Above, I indicated, that since this chat app will do the least, (imagine facebook for 10 people kind of chatting, just stripped down of casual features and emoticons), hence, it has room for doing more.
Something fundamentally new, not only helping in facilitating communication but also with one tap, absolutely one tap, make that communication, actionable.
This is why this chat app, designed for instant one on one styled conversations* only, will make people more productive, then any other chat product in the world. Because it has a way of making your chats more productive even more seamlessly than you could do it with Slack integrated with Wunderlist.
Chattodo is what will make this possible -
Chattodo chatting will move that chat message to a todo list, with just one single tap — on that chat message.
This act of making things typed, reach a todo list, that seamlessly, is exactly why we are making this chat app.
Lets see how it goes.
However, if Slack is not interested in Todoed, then our next company to go to will be Yammer. Todoed can be a tool that can revive Yammer or Upwork.
Not only that, Chattodo is a product that can kill Evernote, for being a much better tool for note-making. To say the least. It will go all the way to being more useful for one on one productivity communication/chat. The space google to Facebook, all are eyeing to nail.
I do see the possibility for Chattodo to emerge as an eventual winner in the productivity market inclusive of notes, todo listing, and chats. I am convinced we may have a better vision than the biggies, we may not have the technology for the AI part, just yet. They will be better at that. But only till we get to that. We are not willing to underestimate ourselves.